Looking for a Convenient Place to Receive Vaccinations? Stop by TGH Urgent Care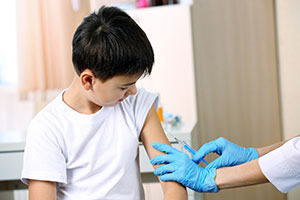 FOR INFORMATION, PLEASE CALL 813-660-6900
A vaccine, commonly referred to as a shot, is an injected biological preparation that boosts immunity, or even provides full immunization, against certain diseases and infections. Vaccines play an important role in maintaining good health. So, if you or your child is due for a vaccination, don't hesitate to visit TGH Urgent Care. Our practice provides several types of vaccinations to adults and children on a walk-in basis. These include:
Seasonal flu (influenza) 
DTaP (diphtheria, tetanus, pertussis) 
Tuberculosis 
We Offer Quality, Comprehensive Medical Care
As a patient at TGH Urgent Care, you'll be able to discuss any concerns you have with the attending medical provider who will ask questions about your medical history, current health, and lifestyle to ensure you receive an appropriate vaccination. For example, if flu season is beginning, you have plans to travel outside of the country, or your child is going off to college, certain immunizations may be appropriate. We'll provide you with the facts about vaccines – not biased opinions – to help you make an informed decision about your health.  
Stop by TGH Urgent Care before work or after school – whenever it's most convenient for you – to receive the immunizations you need. For more information on vaccinations, contact TGH Urgent Care today.
Hours: Monday through Friday, 10 a.m. - 10 p.m., Saturday and Sunday, 10 a.m. - 8 p.m.