Get Treated for Work-Related Injuries at TGH Urgent Care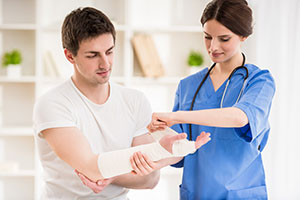 FOR INFORMATION, PLEASE CALL 813-660-6900
When you're on the job, accidents can happen. While injuries can take you by surprise, don't leave your medical care to chance. Visit one of the most trusted and capable urgent care centers serving residents of the Tampa Bay area – TGH Urgent Care. We provide fast and efficient care for a wide variety of non-emergency work-related injuries, as well as non-life-threatening illnesses. By turning to us, you can feel confident in your treatment, as our center is always staffed by experienced, caring, and highly skilled medical personnel who will go above and beyond to make sure you receive the workers' compensation care you require. You can trust us to help you get back to work as soon as possible.
Treating Our Community Quickly & Competently
At TGH Urgent Care, we take the wait out of the waiting room, as you won't have to sit long in the lobby to be seen by a medical professional, and we do not require appointments, so you can seek our services when it is most convenient for you. Plus, since we have diagnostic testing services onsite, we can expertly diagnose and treat all of the most common workplace injuries, including:
Sprains
Strains
Bone fractures
Back pain
Carpal tunnel
Rashes
Lacerations
 To receive treatment for your non-life-threatening work-related injuries, visit TGH Urgent Care at a time that's best for you. We are open during convenient hours and provide care to both adults and children.
Hours: Monday through Friday, 10 a.m. - 10 p.m., Saturday and Sunday, 10 a.m. - 8 p.m.